Is This Dude Too Good For Rihanna?!?!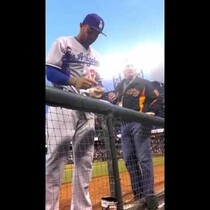 Posted May 8th, 2013 @ 11:58am
Remember Matt Kemp? Yeah he used to date Rihanna. Watch what happens as Joshua Jones, a young Dodgers fan who can't speak and is sadly dying of cancer, attended the Sunday night L.A. Dodgers vs. San Francisco Giants game in a wheelchair. While there, his dad got a chance to talk to Dodgers coach Tim Wallach, and told him how much his son admires Matt.
Rihanna, maybe you should have tried to work it out with this dude instead of C. Breezy.....